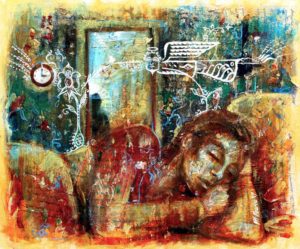 I'm an artist based in West Wales, UK with an interest in texture, text and tattoos.
I'll often begin with a textured or toothed surface: sometimes it will literally be text-ure (handwriting or the pages of a book) or it may be a layer of tissue paper or a sand mixture. Then I'll build up the image in layers. I work in acrylic but also enjoy mixing my media, so I'll often add pen, pencil, gel mediums and collage materials. I'll always have my oil pastels close to hand and a palette knife to scratch back the surface.
I like to create a palimpsest: a surface that is not a unified whole but is instead a series of revealed and obscured layers. With a background in literature and publishing, I'm also interested in exploring the interaction between the visual and the verbal: how a painting can project a narrative and how visual elements can work as a language.
Specifically I'm interested in the human figure and how it can be textualised in order to express identity – or to transform it. Tattooing is a perfect example of this: it has the power to assign a person's social status as well as to turn their body into a living work of art.
In my work I have portrayed tattooed ladies from the late 19th and early 20th century circus and contemporary Russian prisoners, looking at how their tattooing has both defined their identities and rewritten their histories.
More broadly, I'm also interested in early circus and sideshow performers, and in finding new and expressive ways of life drawing to depict the body while capturing its humanity.
I have a BA (Hons) in English Literature from Cardiff University and a BA (Hons) in Creative Arts from the University for the Creative Arts. I also have an MA in "The Word and the Visual Imagination" from the University of Wales and an MPhil in Art History from Aberystwyth University.